Features to Look for in a Gym Bag with Yoga Mat Holder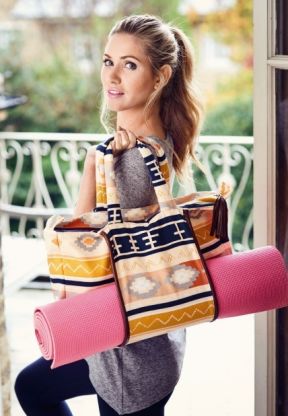 Incorporating yoga in your daily routine helps in achieving and maintaining mental and physical fitness. But, practicing yoga on a daily basis can be a little bit inconvenient due to the requirement for transporting your yoga mat and other gears for getting the most of your workout without slowing you down. Today there are various specialized gym bag with yoga mat holder for making your yoga practice easier and simpler in everyday life with features to make them more portable, useful and convenient.
First and foremost you need to realize what you want from your bag. There are various styles of bag available and works best for different people, so you need to understand a few things when considering a gym bag with a yoga mat holder.
Will your yoga mat holder carry the mat for a longer period? If you are planning to store the mat in the mat carrier, make sure that the material can able to withstand prolonged curling and is not being stored with excessive moisture. A backpack style yoga mat bag is an ideal one if you want to free your hands. If you want to travel at ease or commute by bike or bicycle, a backpack is the best option.
Size of the Bag
While the average width of the mat is 28", there are brands that have mats which are larger in size. This width must be on par with the length of the gym bag. And please avoid those bags that are too long. There are extra spaces in the bag and you will be tempted for throwing a small item in there that can damage and tear your mat so make sure it fits snug. The thickness of your mat plays a major role. If the circumference is large than that of the standard mat, it will be difficult to put inside the carrier even if the length is right.
Relevant Features
Your exercise routine and lifestyle is different than others. Your gym bag with a yoga mat holder can help you in managing this better with some features but please be aware that you don't pay for something you will not be using.
Straps
They make it easy for you to carry and your yoga mat holder straps are adjustable so that you can comfortably adjust the load on your shoulders.
Pockets
The number of pockets you require depends on the number of items you require. If you are heading to the gym daily then it is best to purchase a fancy model that has a lot of additional storage. Some gym bags have pockets for keeping smartphones and the question is how big your smartphone is? Will it easily fit? And there are models that allow you to run your earphones through while your phone stays secure. Please keep in mind that you want a frustration-free solution that helps in enhancing your next yoga or gym session.
Material
Here is the place where hygiene comes in. Due to this reason, a fabric like a canvas is best as it will not be absorbing too much moisture and become moldy. Always look for a premium quality ballistic nylon which is easy to wash and keeps your bag smelling fresh.
Aesthetics
When going to the gym session do you want to make a fashion statement? Manufacturers use various modern and fun fabrics so you can able to match your bag with the rest of your attire. If your gym bag with a yoga mat holder sparks a nice feeling in you when you see it, you will feel more confident in your next session.
Quality
You do not want to replace your bag very frequently so check the bag is built from quality fabric with excellent stitching. The best way for gauging the quality is to check the warranty period. Some brands will be offering lifetime guarantees and as you want to stay fit throughout your life, this is the best option you need to consider. Quality is more relevant if you have to put your yoga mat in the yoga mat holder. You want your hands to be free and at the same time, your bag does not tear from additional weight.