How to Pick the Right Knee Sleeves for You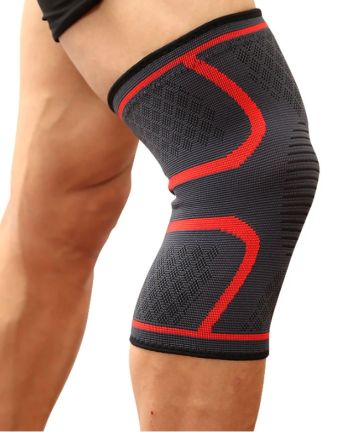 Knee sleeves for runners, jumpers, weightlifters, and other athletes are anatomically shaped, support wear. They can help enhance sporting performances, prevent injuries and re-injuries, and provide compression, warmth, and pain relief to injured joints. Here's what you need to know about picking the right knee sleeves:
Knee sleeves are available in different sizes
While the knee sleeve materials are flexible and stretchable enough to offer a decent fit in general, you need to pick a brace that is the right size for your knee. You don't want the sleeve to be too tight or so loose that it may slide down. It should have a snug, comfortable fit.
To get the correct measurement for a knee sleeve, stand up and measure from four inches above your knee cap. Next, circle the tape about your thigh to get its girth. Then check with the size chart that most knee sleeve manufacturers will provide and pick the one that is an exact or approximate fit for you.
Knee sleeves can be of different thicknesses
You can get a 3 mm knee sleeve for lighter protection for endurance sports and long-distance training. When you feel your energy flagging toward the end, the knee sleeve will keep your knees moving smoothly. The 5 mm knee sleeve is useful for a range of activities, from marathon running to challenging gym workouts. If you are more into heavy-duty activities such as weightlifting, you ought to consider getting 7 mm sleeves to better support your knees.
Knee sleeves come in different materials
You can get knee sleeves in cotton and other fabrics, as well as of neoprene and silicone. The best knee braces are of a 3D knitting technology construction that is soft, stretchable, and supportive. Furthermore, it has silicone anti-slip waves and bands to keep it firmly in place. If you intend to wear the knee sleeves for extended periods or even overnight, you need to make sure they are breathable to prevent your joints from getting sweaty and uncomfortable. The best knee sleeves for runners will remain dry and odorless even after an intensive training session.
Knee sleeves offer different levels of protection
Many knee sleeve manufacturers offer knee sleeves in different levels of protection, ranging from one to three plus. That makes it easier to pick the right one for your particular purpose. For instance, if you are only looking for a knee sleeve to provide pain relief and mild to moderate support while keeping you active and being flexible, you can go for a level one sleeve. It is useful for minor pains and sprains as well as conditions like arthritis, bursitis, and tendonitis.
The level two sleeve is less flexible, but you can still achieve a range of movements while wearing it. There may be straps to tighten it for better knee support. If you suffer from ligament issues or tendonitis, this might be a suitable choice. It is also good for pain relief from chronic conditions and to reduce swelling from sprains.
A level three sleeve is bulkier and has hinges for better joint support, but it will limit your movements. It is suitable for wearing after surgery when it is essential to stabilize your knee to facilitate healing and prevent re-injuries. You should get the level three plus if you require support for major knee instabilities and therapeutic recovery.
Wearing knee sleeves can be immensely beneficial for athletes as well as non-athletes. By providing compression, knee sleeves increase blood flow in the area and keep the joints warm during the activities you undertake. They also support the knee joints and facilitate smooth and stable joint movements.

If you are a runner, you will find that it is more comfortable to run long distances wearing knee sleeves. For weightlifters, knee sleeves can make it easier to perform squats and lifts. Furthermore, if you have joint injuries or weakened joints, knee sleeves will offer them the necessary protection and prevent re-injuries.
You can purchase knee sleeves in singly or in pairs. Make sure they come with a product warranty. So, if the product doesn't fit you well or isn't what you want, you should be able to return it or exchange it.