Ten Gym Bag Essentials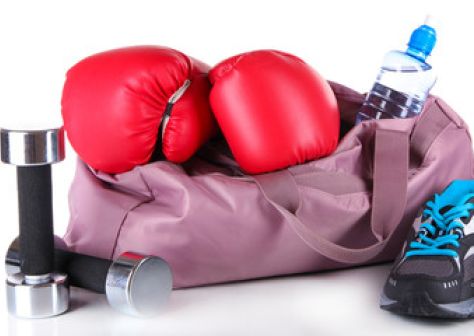 If you are the kind of person who simply throws in the workout gear in the bag and heads to the gym then you might not be fully optimizing your training. To optimize your workouts, buy a practical gym bag and pack it with all the utility items you need to carry with you.
Here are Ten gym bag essentials that you might want to pack before your next workout session.
1. Grooming and Hygiene Products
People usually forget to pack or replenish the various grooming products they need in the gym. Soap, shampoo, lotion, deodorant, and a razor are must-have items to keep in the gym bag. If you use the gym in the morning, also carry a sunscreen to use after your shower. Packing gym bags for men is slightly different than getting it ready for women.
Women must also carry tampons and makeup. Keep a small bottle of dry shampoo for those days when you in a hurry. If you need to use a hair dryer or styling products to head to head to the office after gym then pack them as well.
2. Specific Gear
Pack gloves if you use heavy weights or goggles if you swim before or after your workouts. Pack wrist wraps, straps, lifting belt, ankle weights, and anything else that you need to enhance your routine.
3. Water Bottle
Keep a reusable water bottle with you for your hydration needs. It is easier to skip drinking water sufficiently when you don't have it handy with you in the gym. Lack of hydration can affect your training. So, always use a clean bottle and fill it with fresh water every day for the gym.
4. Towels
Bath towel and napkins are essential to pack in the gym tote bag. If your gym bag has adequate space for multiple napkins then be sure to pack at least two small towels in addition to a big one. Use clean towels of your own to wipe your sweat off or to clean the equipments before using them.
5. Slippers
Flip-flops, shower slippers, or sandals are a must to carry in the gym. Using communal showers is a risk factor for contracting toenail fungus and other infections. Slippers also come in handy to dry off the feet after workouts while you are waiting for your turn to shower.
6. Lock
Bring your own combination lock to the gym to keep your locker safe. It is simply not advisable to leave your stuff (especially laptop and other office stuff) lying around the gym unlocked. People usually go the gym before and after their office hours. You may have important files with you or expensive equipment that you need to stow away safely. So, pack a lock.
7. Extra Socks
You may not realize the importance of carrying an additional pair of socks until you need one. Perspiration from heavy workouts can make it uncomfortable for you to continue with your training wearing wet socks. A quick change of socks can help you complete your sessions more conveniently.
8. Additional Undergarments
Gym bags for men must have extra pair of underwear and a vest. Women must carry extra undergarments to use after the shower and also an additional sports bra just in case.
9. Medicines
If you are on specific medicines then it is always wise to carry them with you in the gym. If you use an inhaler for your asthma or might need epinephrine injections for severe allergies then you must keep them in the gym bag. Also carry with you your own stock of medicines such as OTC pain relievers, antibiotic ointments, adhesive bandages etc.
10. Healthy Snacks
It is always wise to carry snacks in the gym bag. Whole fruits such as apples, pears, and berries are good choices to stock in the gym bag to eat in the morning after the workouts. You can also keep small packets of dried fruits such as apricots, almonds, and raisins. Roasted peanuts are excellent to eat after workouts as they are rich in protein and easy to carry in the gym bag.